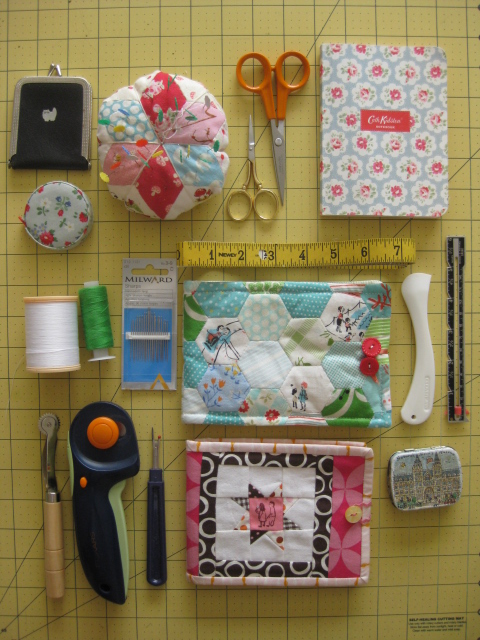 Earlier today I was getting out my tool bitty bobs, ready to tackle today's sewing must do's.  The tool bitty bobs basket needed tidying up, which it always seems in (gentle or urgent) need of but I needed a distracting hobby whilst I tackled the boring actual tidying part of the task.
So I decided to take some photo's and present to you my tool bitty bobs personal super guide (or accrotrement's special edition for ladies with a persuasion of sewing enthusiasm).
All of my everyday tool b.b's live in two baskets which fit into my coffee table for when I'm sewing.  There's always pens and beads and stickers in there as well which seem to find their way in but never out but mainly it's these guys..
Pincushion - (this one was made for me by Megan) and I think just having it there to stick my pins in whenever I have a loose pin in my hand makes my sewing life run so much more elegantly smoothly (thank you Megan).
Scissors - the large ones are for sewing and the small'uns for embroidery but great for snipping threads too.
Measuring tape - I once borrowed this out of my mum's sewing basket but forgot to put it back, I think that was 20 years ago.
Notebook - Hugely important because when inspiration strikes and you can't move for being surrounded by sewing accoutrement's you can just...

sketch away for possible use in the future ;)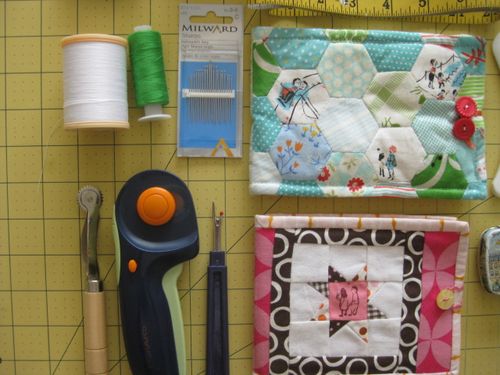 Sewing threads - The white is the one I use for all my sewing and quilting, it's strong, long and works for me ( I use the Coats Craft brand in spools of 1000m).  The green one is a cheaper thread I got in a pack and it breaks very easily so I use it for basting stuff like hexagons.
Sewing needles - I don't know where all my needles end up, I go through packets of them...
Hexagon holder pouch - Made by me and used for storing hexagons (I've been making lots of them as you'll see).  There's a tutorial for making this pouch here.
Cute needlebook - Made for me by Tacha.  V. useful for keeping different needle types on different pages ( I use regular, embroidery and tapestry ones).
Seam ripper - I need a big one so it doesn't get mysteriously lost everytime I have a huge emergency.
Rotary cutter - If I need to explain what this is, you might have stumbled onto the wrong blog ;)  Used exclusively for the cutting of fabric and not the slicing of fingers.
Tracing wheel - I use this to trace patterns when dressmaking.  With the pattern placed on top of the fabric, run the wheel over the pattern lines to produce a dotted line right onto fabric.  Totally magic.
Just out of shot in this pic but visible in the top one are,
Hera marker - This is the curvy white stick, used for marking quilting lines (it marks by creasing so nothing remains to wash off later).
Seam guide - For quick checking of seam allowances.
Natural History Museum tin filled with little pins - I've had this for years, the pins are the teeny ones that are easily dropped and lost so I rarely actually use this but it likes hanging out in my basket so it still lives there.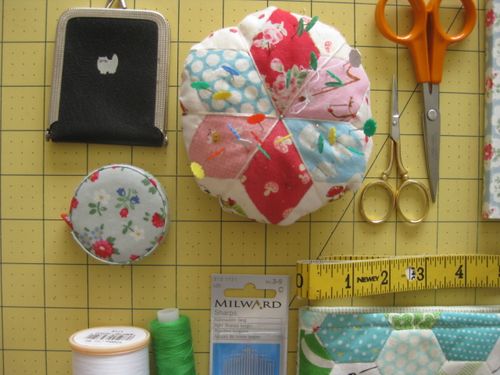 Needle clasp case with cute cat sticker on it but no actual needles in it (same use as tin above).
Mini tape measure - super useful and tidies away at a quick push of the centre (love that).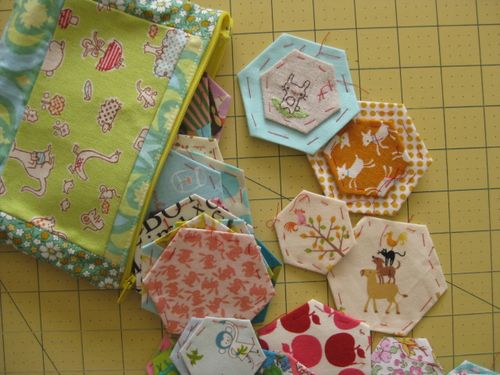 These are some sewing pouches currently living in my baskets too.
This one contains lots o' hex's made for me by Cathy.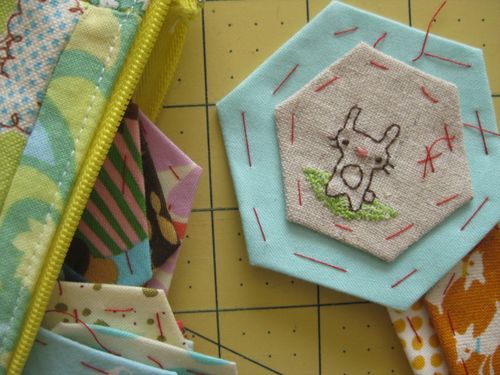 This guy is one of the most adorable things I've ever seen, he needs to be made up into something and admired forever urgently.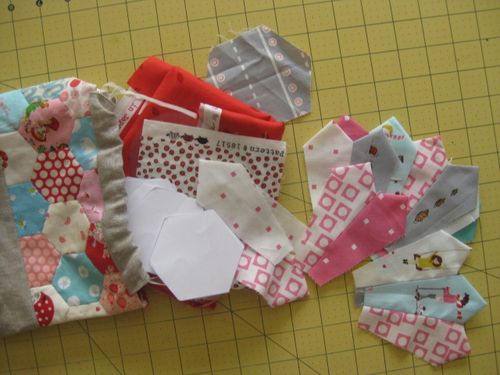 This bag was made for me by Megan - isn't it great how I get others to make my stuff for me? 
Actually all these made for me beauties were received in swaps, you can never have too many of those in my book (or blog).
The pouch contains mostly dresden petals which is today's sewing project.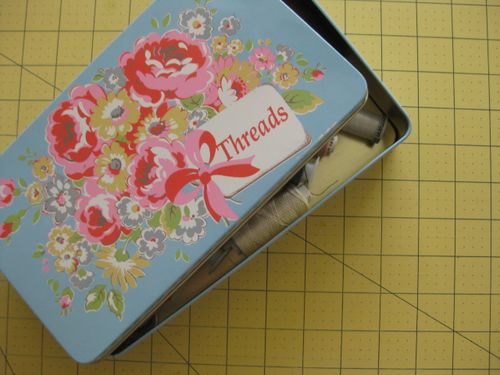 Lastly - My threads tin - which contains...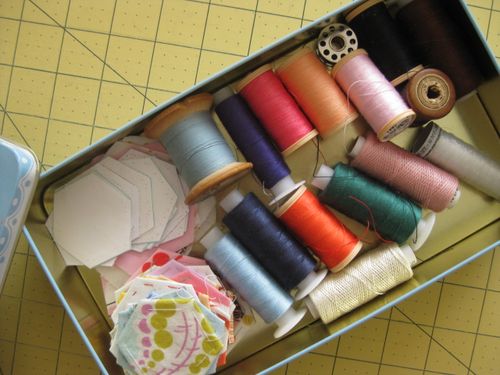 Threads! (and more hexagons ((they're everywhere!))).
Gosh, such a long post, I hope you haven't fallen asleep or gone to make a cup of tea waiting for today's installment of stitchy life to end.
Believe or not there will have to be an acoutrement's part two (because it's not over yet ((obviously I have a tool bitty bobs problem))).