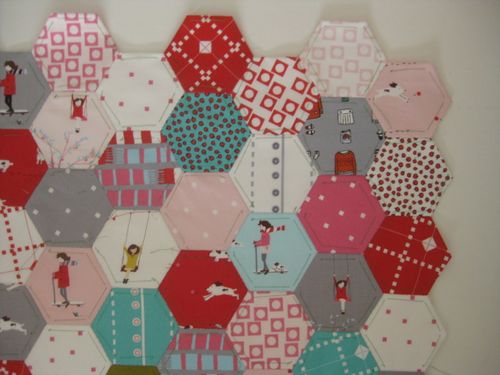 Just in case you didn't see enough hexagons around here yesterday, here are the ones I've been busy with recently.  These have been to Whitstable and back with me, stitched on the train and on the beach (thankfully I didn't lose any needles in either of those places..).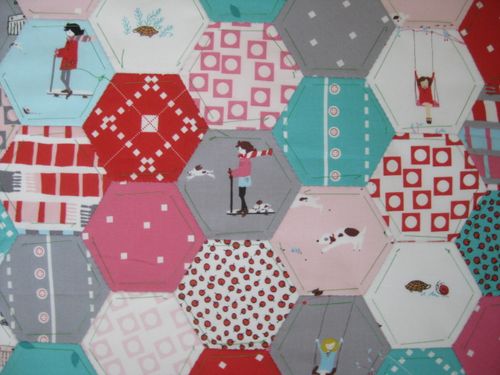 Do you know the bit in one of the Harry Potter films (part 2 I think?), Harry and the Weasley family transport themselves to Dyagon Alley to shop for the new school term by saying 'Dyagon Alley'?  Only Harry get's it wrong and says 'Diagonally', consquently ending up somewhere else instead?  Anyhow the word that keeps coming up in my head (and swimming around for a bit with no purpose particularly whatsoever) whenever I work on hex's is always 'hexagonally'.  Kind of like I am being transported to some kind of nice place called 'Hexagon Alley'.  I like this (fictional) place, it is perfectly my kind of alley..
Back to the sewing, I used prints from both pips and apples so it was fun to see how they all played together kind of sweetly.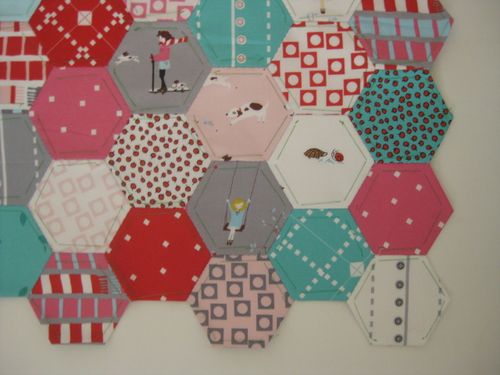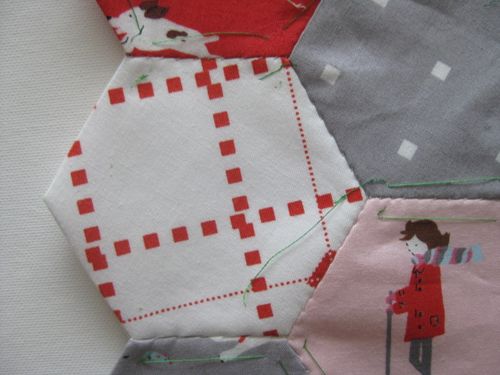 One thing I just wanted to point out for when making hexagons is the occurence of thread melt mishap.
Thread melt mishap happens when certain (usually cheap mulitpack) threads melt when ironed on high heat.  This is what happened this morning as I pressed my pieced hexagons, the green thread (the one I showed yesterday) melted and turned into thin hard plastic.  This can be picked off but sometimes melts and hardens right into the fabric.
To minimise thread melt mishap - Use cotton thread (the best you can afford).  If you don't know the content of your thread be careful when ironing at high heat (perhaps cover patchwork with a light cloth) and maybe think about using a thread colour that is close to the colours of the fabrics you are using (i.e. not clashy bright green as I did here).
Thankfully the damage was minimal and there was none in the centre of this whole thing which I have just spent days handstitching together (phew!)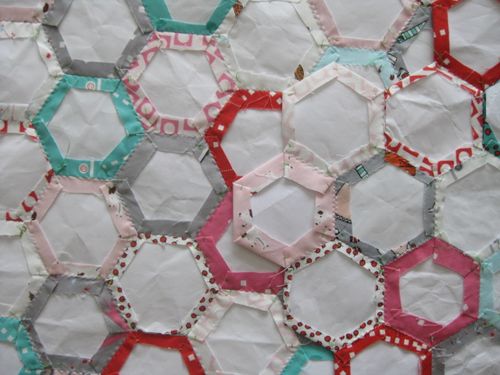 So it's back to the hexagon's I go.  I need to remove all the threads n' papers out of here and then stitch them up into a little something.
Hooray for hexagons!!!!