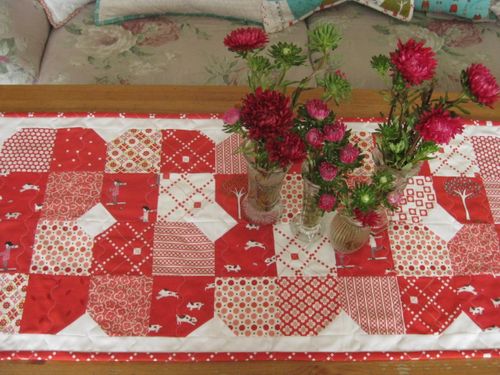 I started making this table runner on Friday with the idea to use shades of just one colour.  The colour decided on was red, which was quite a good choice because there isn't much variation within the spectrum of shades of this hue! (unless you are going from orange through to purple).  
For this piece though I wanted RED red and luckily it worked out pretty well.  I was able to find lots of prints with different textures - bold and graphic through to fine detail and the contrasts are what I notice the most when I look at the finished runner.
I think this is the same way that redwork style embroidery works, red really is a colour that can stand alone.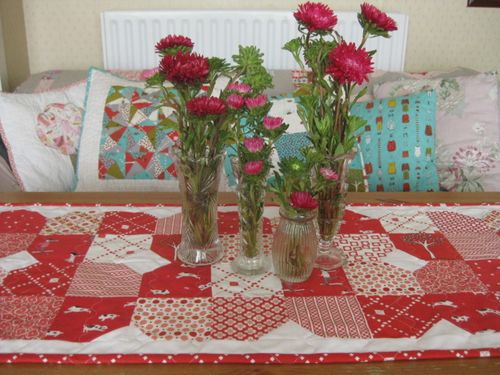 I must be in a rouge frame of mind right now because these asters I brought home from the shops on Saturday are perfect to stand up on the runner.
The only thing tricky about asters is that they have pretty weak stems considering the hugeness of their heads and thus are prone to drooping (my neck hurts just looking at the poor things) and snapping.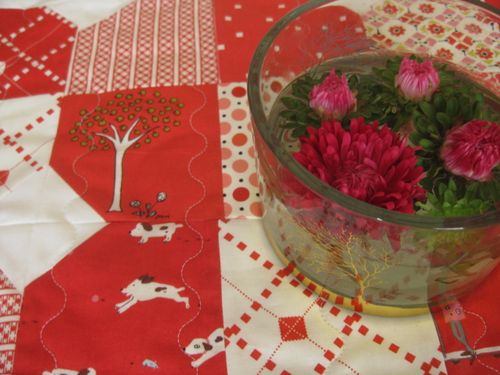 I couldn't bear to throw away the poor little snapped off heads, they looked far too pretty to go live in the bin.  So I found this glass bowl which held the unusable remanants of a Christmas candle from last year, placed it in a plastic bowl of hot water for a few minutes and then managed to easily scrape out the residue wax.  After the bowl was filled with water, in popped the snapped off pretty heads to make a nifty little pond style/floaty flower table piece.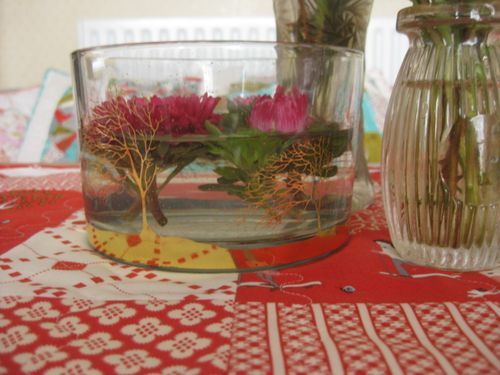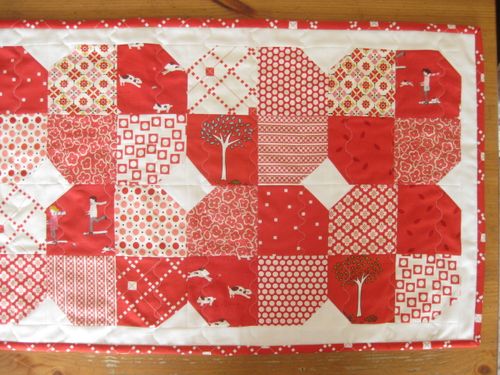 Table runner made from 4" squares, pieced into four patches and then made into snowball blocks*.  I stitched together two rows of six blocks to make the runner and then added a narrow 2" border.
Finished size of table runner - 45" x 17" 
*Edited to add - For each snowball block, I cut two 2 1/2" squares then cut each square on the diagonal to give two triangles.  Sew one triangle onto each corner.
Fabrics used are from Sherbet pips and little apples as well as Picnics & Fairgrounds and Katie Jump Rope by Denyse Schmidt, Bliss by Bonnie & Camille and some Kei Honeycomb Dots.
Binding is Sweater Check in Lollipop from Little Apples. 
Hmmm I think a few red cushions may be in order??