I'm back!
Before I show you the pics, I want to describe the quilt market experience in a nutshell or six.  Market is like heaven for quilting fabric lovers, that is a given but it is also like no other experience I've ever had.  For starters, I jump on a plane with Lu and Katy for a 10 hour flight and we go 6 hours back in time whilst up in the sky.  We land and go out for a meal with a huge amount of people I've never met but know a little from being on the internet and it is ridiculous o clock so I can't even string a sentence together.  Each day I am fine but by midday I'm flagging.  By night time I hardly even remember my own name but night time is a social whirlwind so I stagger around in some kind of trance feeling like I'm drowning.  Five days later and I have got used to the time change only to travel back home and get all muddled again.  When I get home the house is a mess and I have 88!!!! emails to answer.
But let's forget about all that and look at the fabric.  The pic at the top was my display area.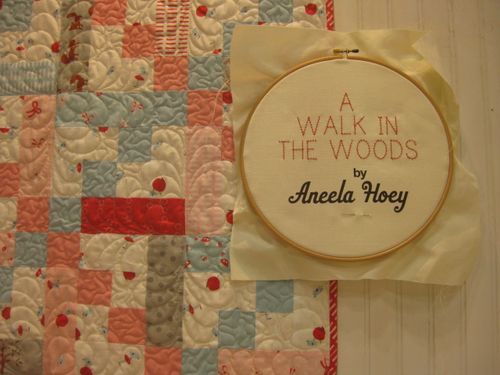 All the moda designers had their names and the name of their new line embroidered up in a little hoop like this, how cute!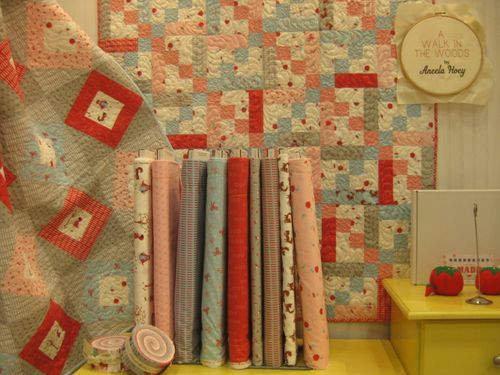 Neither of the quilts in the above pic were mine, I know Sherri made the one on the left but if anyone happens to know who made the main quilt please let me know so I can add the details. ETA quilt pattern is by Sweet Jane and will also be featured for sale through United Notions.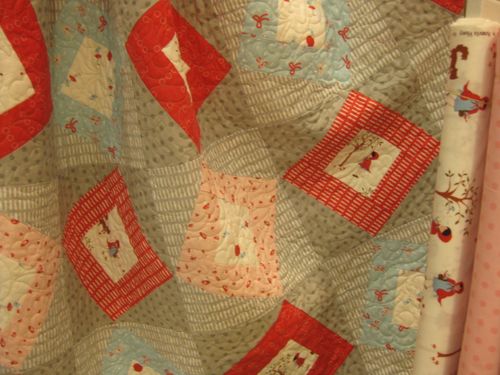 This was Sherri's quilt and there will be a pattern sheet available through Moda soon.
Here is my 'Sugar Drop' quilt peeking out of the drawer.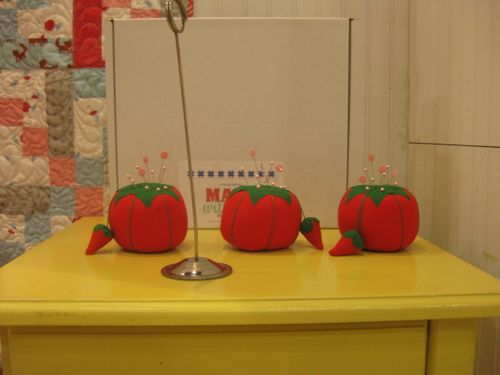 The Moda booth theme this time around was Made With Love, hence the stitched names in a hoop, beyond cute pincushions,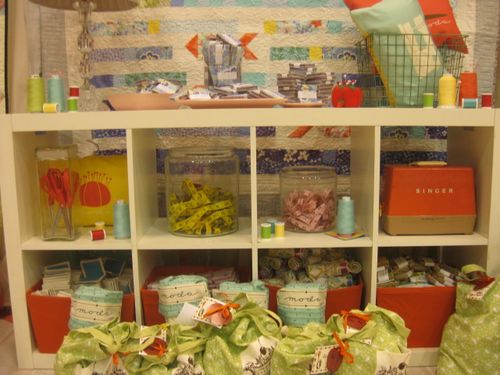 and notion heaven all around....
Everywhere you looked.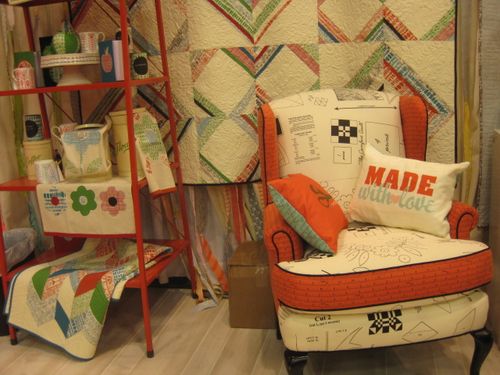 I'm not going to even attempt to show you all around the booths at market but here are my top two tips from this market, Summersville by Lu Summers.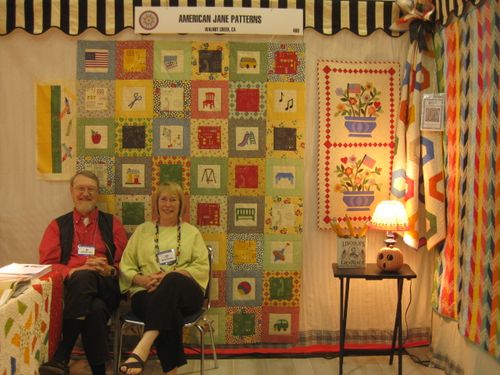 And School Days by Sandy Klop, who was also showing her new Pezzy print line.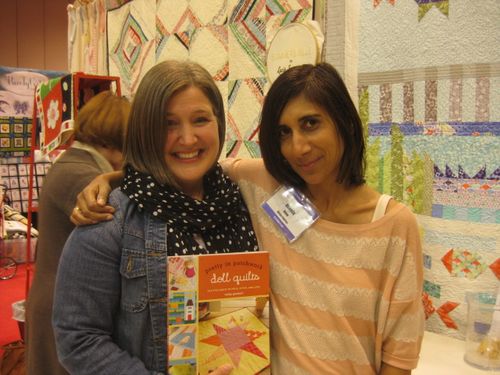 One of my absolute highlights from this market was meeting this sweet lady at last!!!  Cathy Gaubert is every bit as sweet natured as she appears on her blog and in her cute embroideries.  She is also the author of the book she is holding and one of the projects in it was written by me!!  More on that very soon!!!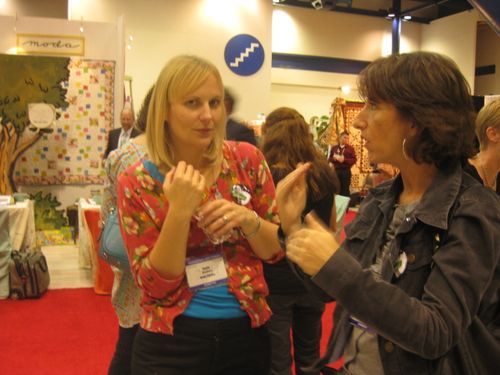 Here we have Lu and Malka, discussing their art perhaps?????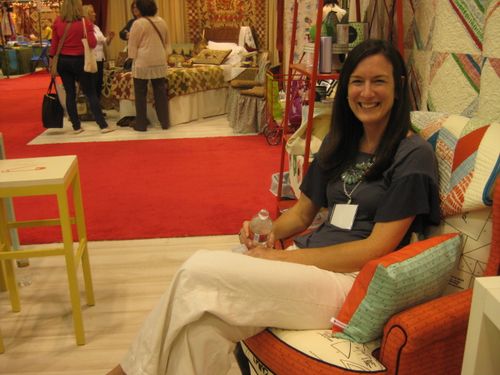 And here's Kate Spain working hard, definitely another highlight for me was meeting Kate, she is like a gem with lots more gems stuck on top!
Not to say it was any less of a thrill meeting and talking to all the other designers at Moda, they are all entirely sweet and hugely entertaining.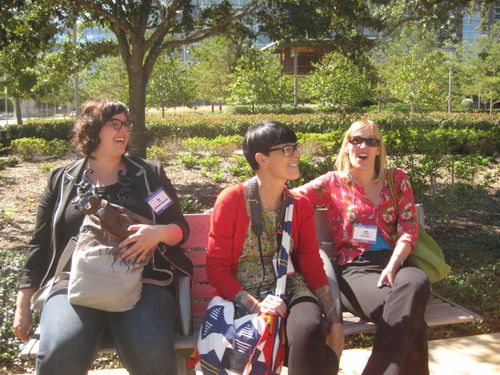 On a few very rare occasions I actually made it outside, here we have Tula Pink, Katy and Lu enjoying the sun.  Meeting Tula was out of this world amazing because she is so unique and she actually knew who I was!!!  I was completely floored to say the least.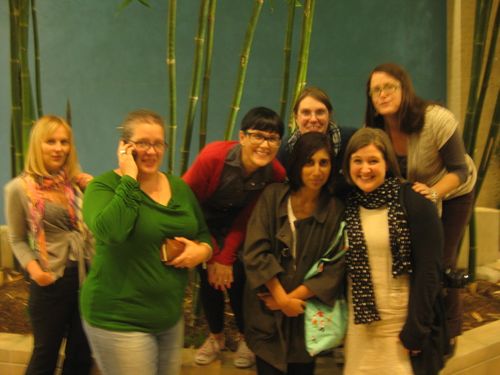 Here we are after dinner on the last night.  L - R Lu, Amy, Katy, me, Tacha, Cathy and Amanda (Cathy's editor at Lark books).
Believe me this is one speck of a squillionth of what happened at market, I can't even begin to start listing all of the amazing people I met (I'm so afraid of leaving anyone out).  So please think of this post as a sip of market and not a coverage in it's entirety.