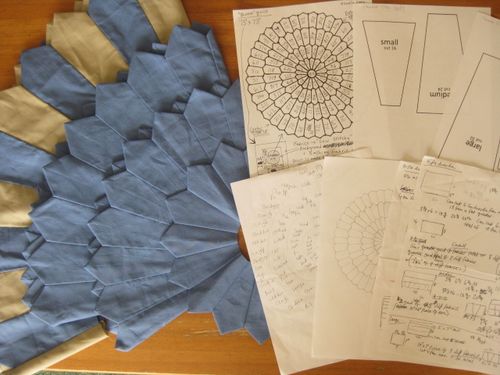 So yep you are all pretty much spot on with the contents of Sew Stitchy, you honestly could have designed this line for me :)  And just so you know, there is a little squirrel in there.
Precisely five minutes ago I had an idea, the idea was to tell you all about the making of and writing up of the pattern of the quilt I'm working on today.  The thing about this quilt is, I've written up the entire pattern and made the templates and all the illustrations FIRST.  Yep!  that's before I've made the quilt itself.  The reason for working so confusingly backwards is because I designed it to go in the new Moda catalouge or playbook as it is known, so it had to be ready almost before I got the fabric to sew it with.  Working on this little number began over Christmas.  All through the festive season, I was making my own templates from scratch and sizing and resizing them to fit inside each other neatly.  Then I made a mock up of all four dresdens to double check my maths and make sure everything worked (see exciting blue fabric dresdens above left).  The quilt is called Bloom and is going to be made up of four dresden plates appliqued one inside the other to make up the most ginourmous dresden you have ever seen and by gosh it has been a lot of work.  
So now begins the exciting bit, using my pattern to actually make the quilt from..............................Sew Stitchy.
If any of you fancy stitching along side me, I'm adding this pattern to my shop today - listing is up, you can find it here.  It'll be nice to have some company if anyone fancies playing along :)
Edited to add - Bloom quilt pattern is now available again and can be found here.