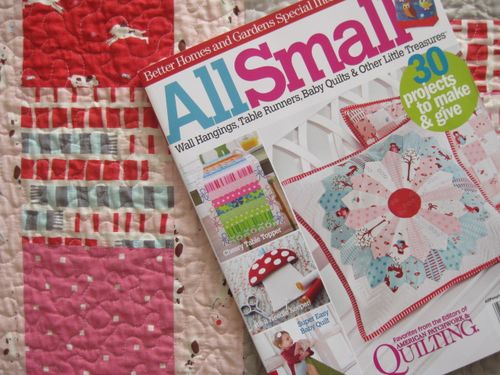 Yesterday I finally got to see a copy of new Better Homes and Gardens special issue 'All Small'.  This one has been out for a little while and I was slightly more than hugely delighted a few weeks ago when I discovered that my Sew Sweet pillows had made the cover. Not just the cover but, you know the main picture and everything. I spent all my spare minutes yesterday with my eyes glued to the pages of this issue, the photography inside is just beautiful and I get to hang out in the company of some great people.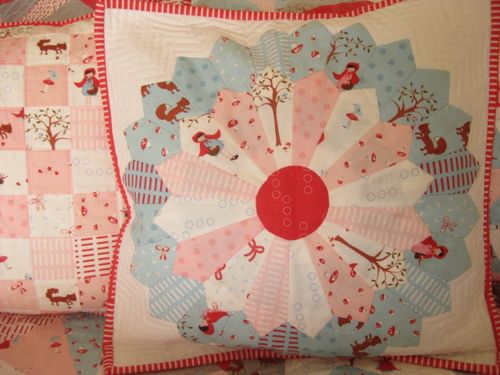 The issue features both my double dresden plate pillow -  which you might recognize as the original inspiration for my Bloom quilt - and my pink and white square marshmallow pillow.  The double dresden one is perfect if you want to try the bloom pattern but in a more manageable project size.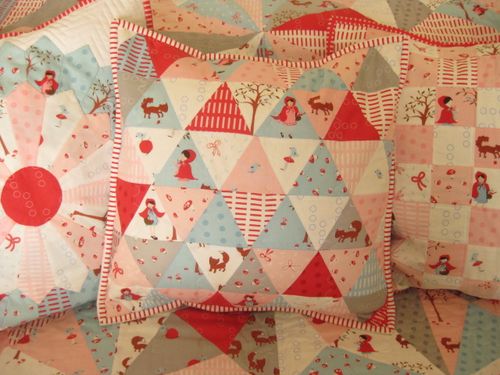 Here are both my cover stars hanging out on my daughters bed with their sibling the triangle pillow - who sadly did not manage to follow their path to fame.
The one teeny thing I am sad about is, I really really wish these magazines were on sale in regular stores in the UK, I would LOVE to have popped one in my shopping trolley in the supermarket this week.  So please feel free to tell me if you have seen this issue for sale in your local store or one made it into your shopping basket and I will gladly live vicariously through all of you :))