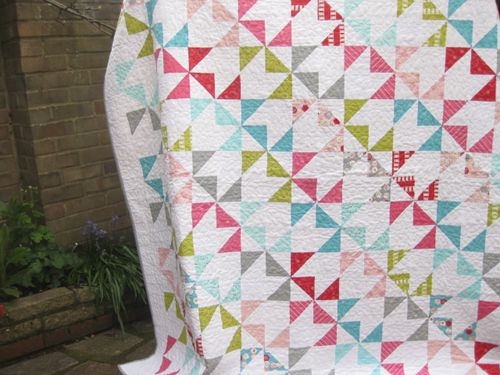 With the rain lashing down endlessly again; I have decided to live in denial for a few minutes by feeding you the impression that it is in fact fairly beautiful outside.  These lovely pics of my finished Delightful quilt were taken a couple of weeks back, when we were living (as we should be) in spring.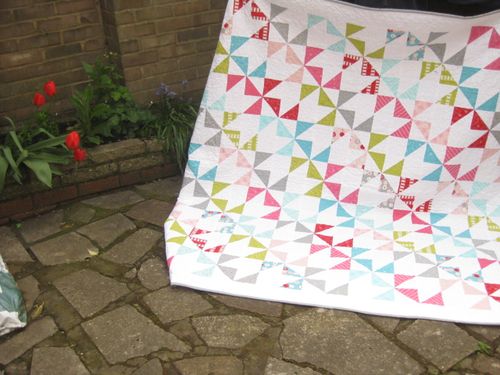 This quilt pattern uses a simple block arrangement to give a pinwheel with a twist.  When I first drew it up back in December, the blocks reminded me of those pinked edges you get on the end of ribbons.  A couple of my readers have also commented on how the blocks resemble the letter M, which is something I really didn't see until it was mentioned.  I really love the movement that is created when you look at this pattern - my eyes kind of go fluttery as they go back and forth looking at the jiggedy-ness created - do yours do it too? (or is it just these eyes of mine).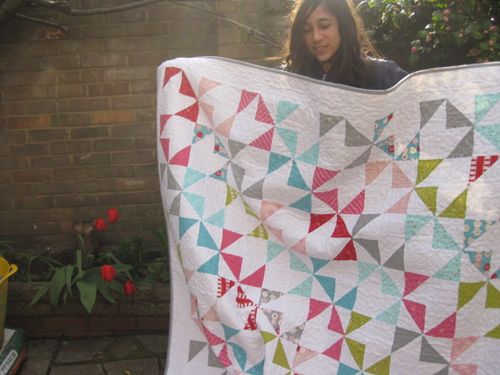 Since this quilt is named delightful - I thought it only correct to wake my eldest daughter up early one morning in the Easter holidays, then drag her outside to hold up the quilt whilst I took a few snaps (before she'd had her breakfast).  As you can make out, she really was delighted to be my little quilt elf and did not complain that her arms were aching. Not even once.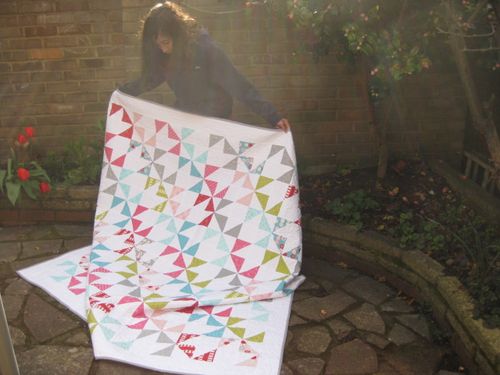 Not even when I took this one.
The garden bench was slightly more helpful but that is probably because it can't speak.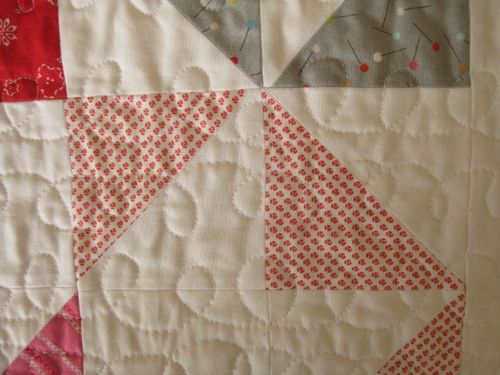 Of all the quilts I have ever quilted, I think this one was my all time favourite quilting experience.  Maybe I have finally got used to my machine after only three years of use.  I quilted it in lines of loops going across the width - it took a whole day to quilt but I am definitely doing the loops again.
Fabrics are from my Sew Stitchy line (available in August) and moda bella solid in white bleached.