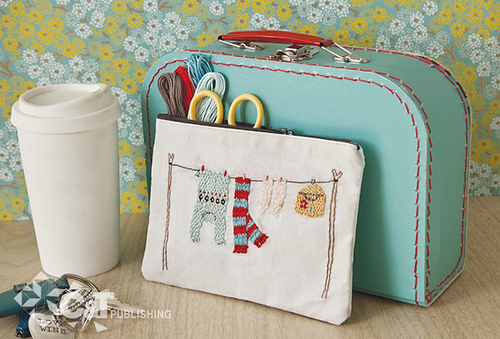 Woohooo!!!!!!!!!  My new book Little Stitches is now on sale at Amazon and I couldn't be more happy that this day has finally arrived (I know it has been selling at book and quilt shops for a few weeks already).
To celebrate I thought I would give you a few more details about the book in case you are wavering on the 'is this the book for me' tightrope.
Little Stitches is aimed at both those new to embroidery and seasoned stitchers.  In it I go over all the basics from hooping up your fabric, transferring patterns and making the stitches to tips and techniques to help you on your way.  I show you how you can embroider scarves so they look knitted (see the scarf in embroidery above), how to add decorative stitches to already embroidered areas (see sweater above) as well as tips for stitching up faces for the little children you see in my embroideries.
There are 12 sewing projects in the book, each one starts with how to make the embroidery then continues with the sewing instructions.  Following each project you get instructions for three alternative embroidery options with full instructions - So you can tailor make each project to suit your tastes.  So that's 12 sewing projects with a total of 48 embroidery projects.
To add even more bang for your buck you will also find over 50 additional embroidery pattern images at the back of the book.  So that's a total of over 100 embroidery motifs.
Want even more value?  The patterns are offered on printed pages at the back of the book, which you can trace directly onto your fabric AND also every pattern is offered as an iron on transfer pattern on pullout sheets.  So you get TWO of each pattern, one you can trace and one you can iron on - The choice is yours.
OK I could go on but I won't.  If you want to see more pictures Amazon has the 'Look Inside' option for you to have a peek ;)
One last thing - I was elated to find that I had two reviews up on Amazon already for the book (Thank you speedy reviewers :)  I know a number of you have stopped by to let me know you have already got your copies, so I would be honoured if some of you would add a review of your own and let others know what you like about it (pretty please).
That's it I'll let you go, really I'd love you to stay but I won't be so greedy on your time :)