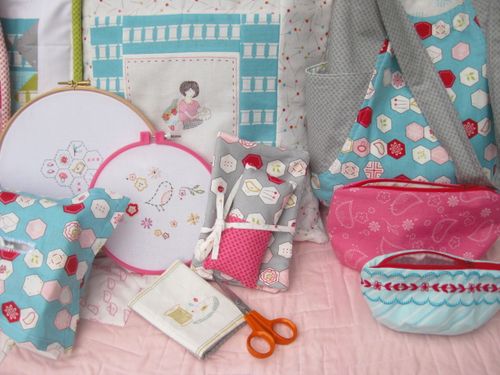 I warn you in advance, this is going to be a very long picture heavy post.  You might need tea, several cups and perhaps a biscuit or two (or an ice lolly).
This post is all the fault of my eldest daughter.  I was unable to make quilt market earlier  this year and as you know QM is a great place to showcase a collection and illustrate how it can be used.  It gives the designer a chance to say 'this is what I was thinking when I designed this stuff'.  So one evening, when I was wittering on to my family saying maybe I should have gone to market, my daughter said 'why don't you just do a booth in a blog post when the collection comes out instead?'  Children seem to have a distinct ability to simplify stuff don't they?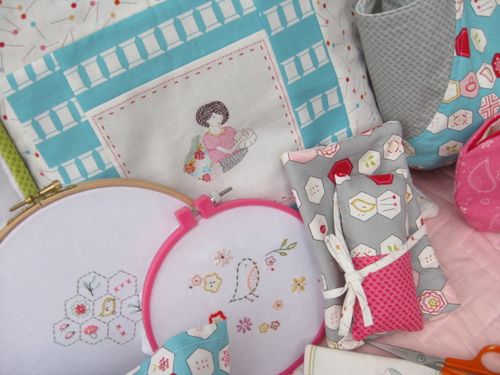 So here we go, a post all about what you can do with my newest fabric (shipping this week, I think) Sew Stitchy and also a little more about how it relates to my book Little Stitches.
For starters you can make stuff to keep your notions/haberdashery bitty bobs in.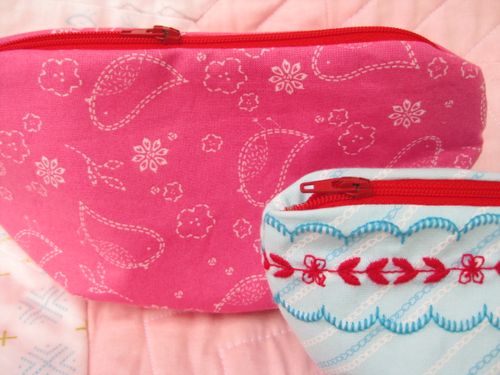 Pouches obviously, for the one in the front, I used my pale blue Chain Stitch print and overlaid it with some machine embroidery using some Aurifil 12 weight thread (you can read a few pointer's for machine embroidery here).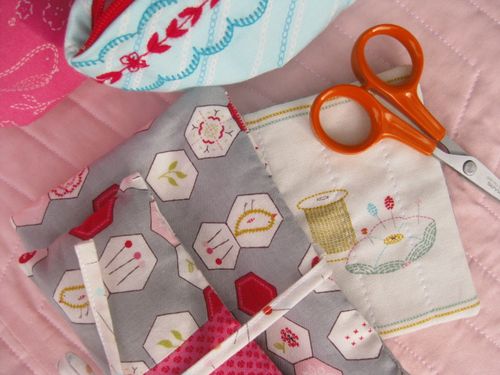 I also stitched up another travel sewing pouch, pattern from the book Zakka Style by Rashida Coleman Hale using my grey Hexagons print and pink French Knot Dot co-ordinate.
The little needle book uses a square from the Panel which comes with the collection, the illustrations are all drawn up to look like they were stitched. 
The pattern for sewing the needlebook comes from my book Little Stitches.  As well as over 100 embroidery patterns the book also has 12 sewing projects to make from your embroideries but they can also be used with non-embroidered fabric just as easily.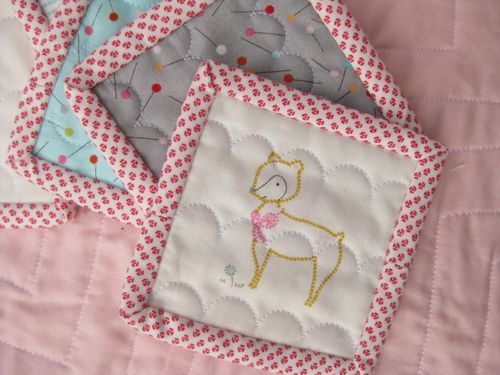 These coasters were also made using one of the sewing patterns from my book and again the little deer is cut from the Panel print.
Something else you might want to know - there is a pattern for the embroidery version of the deer above, the squirrel below and the notions on the little needlecase above (as well as several of the other illustrations used in the Sew Stitchy line) in my book.  I wanted to make the fabric and the book work well with each other, so you can make embroidered and sewn items and then co-ordinate them with projects made from printed fabric too.  Lots of ways to play with the two together.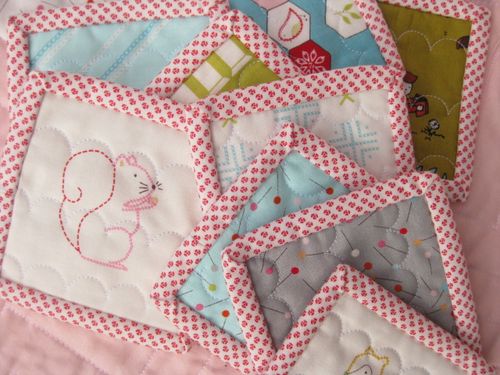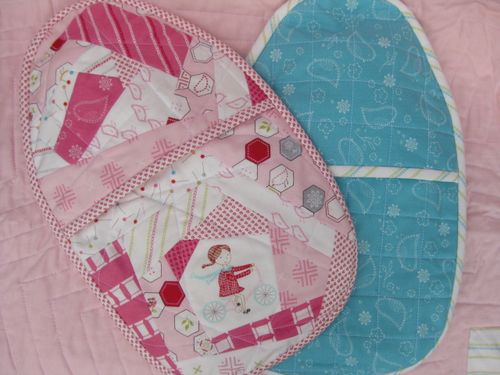 Here is another project I made by using a pattern in my book (again the book version is embroidered) - A couple of hot water bottle covers.  For the pink one, I made a scrappy fabric using this tutorial first and then followed the sewing part of the project.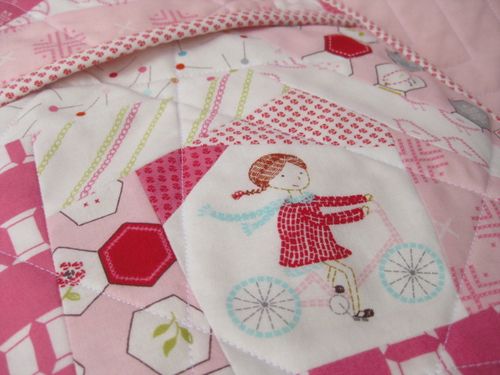 Again the little girl is cut from the Sew Stitchy panel.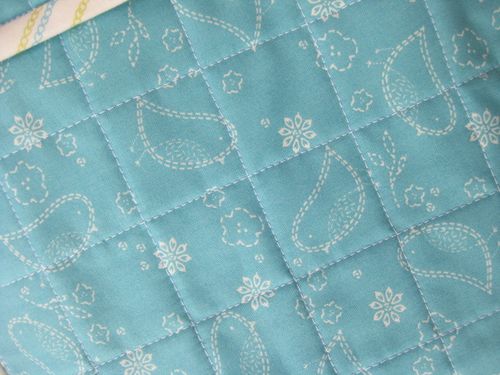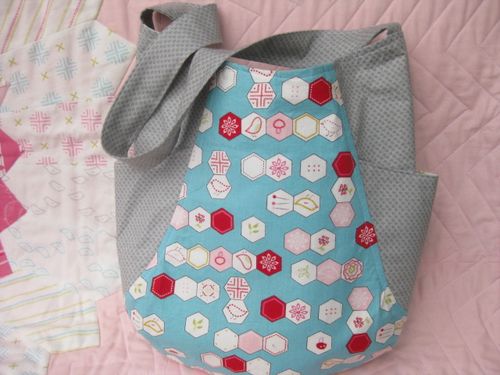 This is one of my favourite things that I've made from this line - my 241 tote, using my blue Hexagons print and grey French Knot Dots.  I have used this lots and love the bag pattern (by Anna, available here).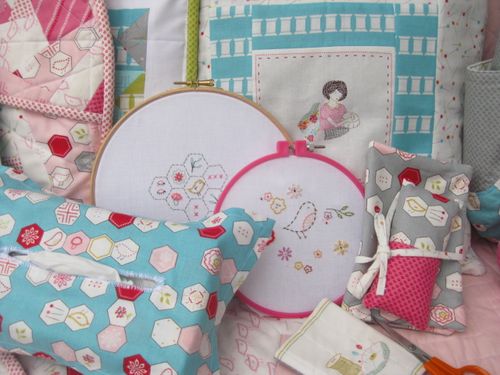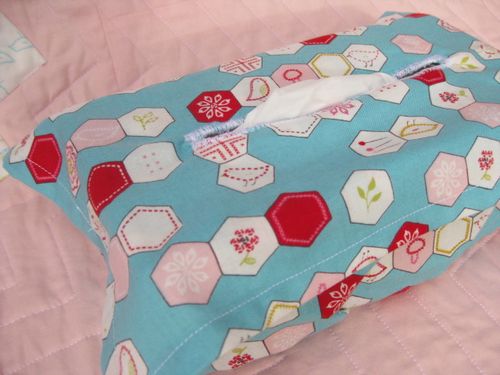 Tissue box cover - again using a pattern from the book.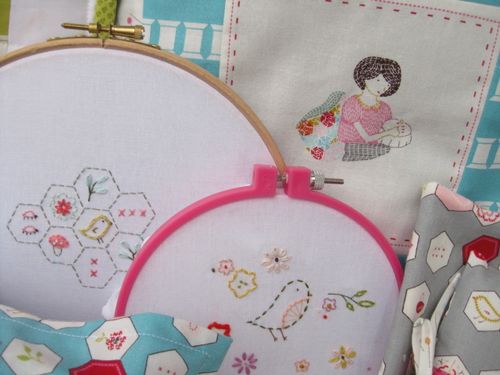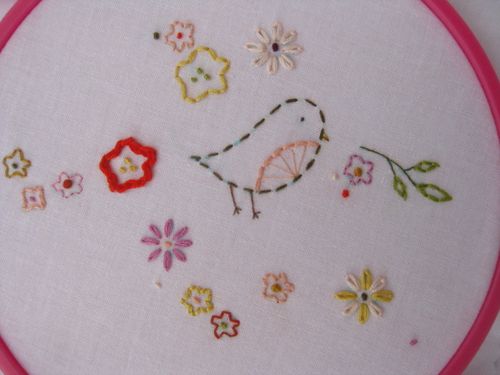 This embroidery is one I did just for fun earlier in the summer.  I used the illustration from my Stitched Bird fabric and just took a little time out to play.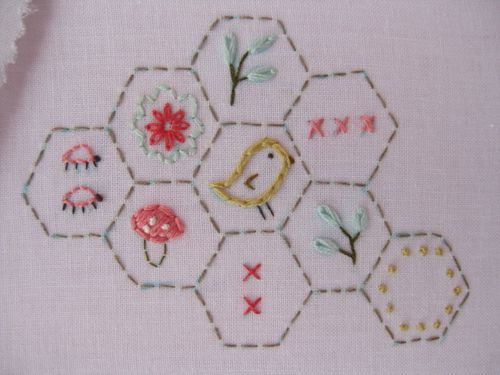 This is stitched from one of the bonus transfer patterns you'll find in my book.  You can bookmark this post and come back to it later should you ever want to stitch it up.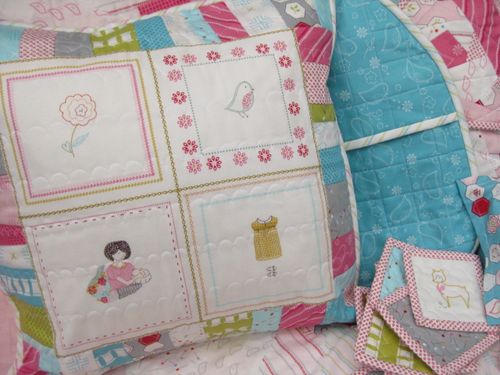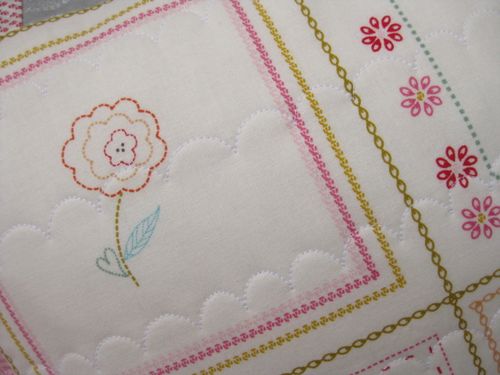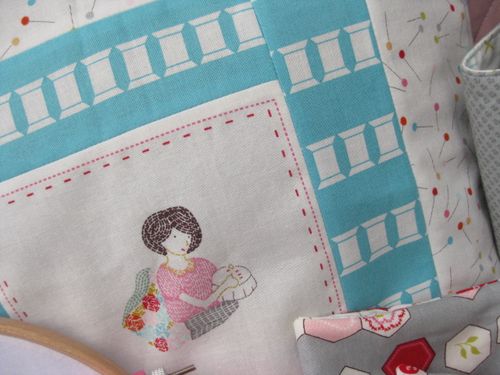 Pillows made from the Panel print.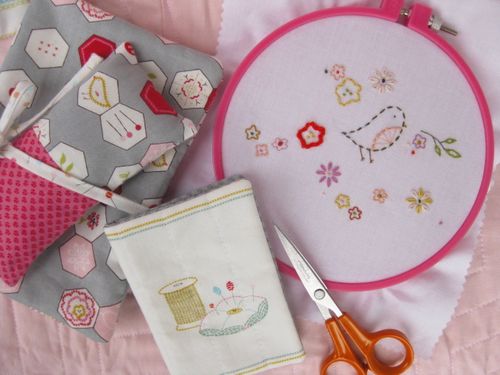 And there we have it.  I hope you enjoyed my little blog post version of a booth :)