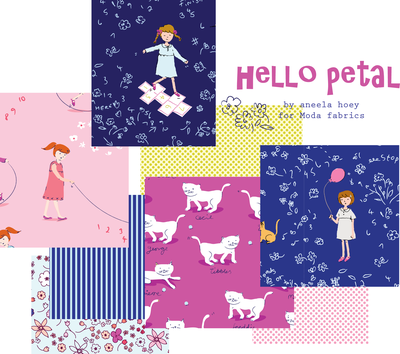 So finally here is my newest forthcoming line for Moda fabrics - Hello Petal.
This one took forever to do, I took my time with the prints, colours and combinations.  Every time I thought I was done, I found something else that needed a little tweak.  But it was worth all of that detail because this one is my favourite line so far by miles.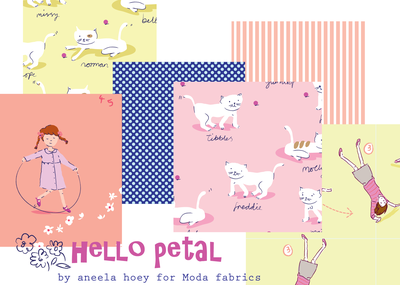 Inspired by a little girl I know who wakes up every morning knowing today is going to be a good day because she can do handstands!  My littlest daughter has spent the last year handstanding her way to school (all one and a half miles of it).  Now that we have moved, she skips sometimes too, even with her school rucksack on her back she is fast and happy.
And those cats, originally a suggestion from Moda, my girls have long been suggesting I design cat fabric (it was that or get them a cat) so finally I caved.  Maybe I should listen to them some more?
Please note, this is not the entire line, there are 32 prints in all and I've tried to show as many as I can to give a good idea of the range.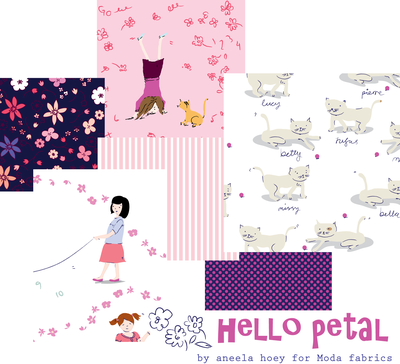 Hello Petal will be shown to the shops next month (if you have a favourite store, now would be a really good time to start dropping hints).
The line will start shipping in December.  I know that is a long way off but the reason I am showing you design images rather than fabric is I won't get any of this fabric until then either :( so WE are all in the same boat (its going to be a long summer for me).
Any how, enough of me waffling, I would love to hear what you think???  Could Hello Petal find it's way on to your Christmas list???