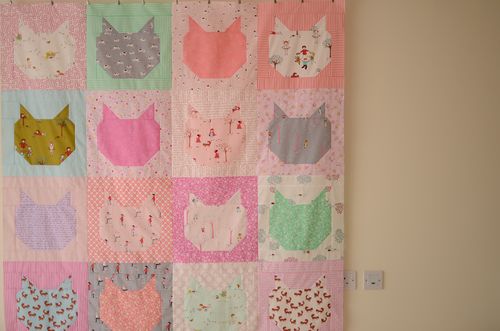 This quilt started in my head several months back when I started to think about quilts I could make in my forthcoming line Hello Petal (especially with those Kitty Cat prints).  Once I got the idea of using the sillouhette of a cat face as the basis for a quilt block I couldn't wait to put one together.  I had never seen another cat quilt block but I am certain that many have been sewn over the years because cats and quilts go together like tea and sugar.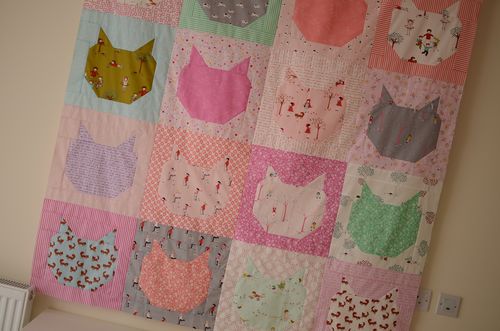 I made a few practise blocks, wrote up the pattern and lots of work deadlines got in the way until finally last week I was able to sew up the blocks.
As I don't have any Hello Petal fabric just yet I decided to make this quilt top from a mix of some of my other lines.  Mostly Sherbet Pips, Little Apples and Posy.  It's been fun to see how these lines combine with each other.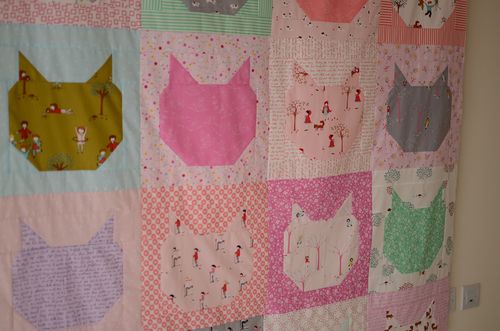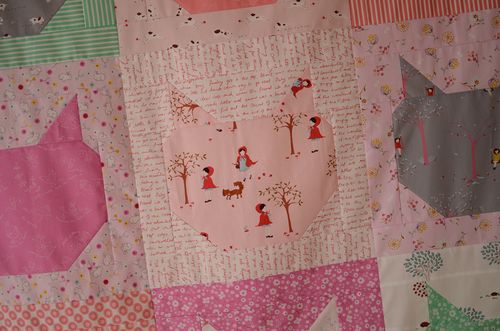 These blocks are simple to put together.  They involve only the most straight forward piecing, no tricky templates or paper piecing.  Their big size means they come together quickly and they are ideal for using even large scale prints.
The pattern is now on sale in my shop and is an instant download PDF so you can buy, download and start sewing straight away.
If you'd like to see how the quilt would look made up in Hello Petal the cover image below gives you an idea.  I will definitely be making another in December!