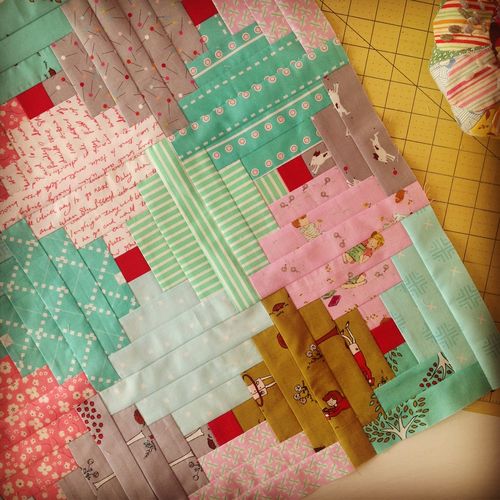 Yesterday I stitched up the courthouse steps blocks I've made so far and then promptly put them to the side.  They produce such a lovely textured effect but they are so energy draining to put together that I had to go and have a lie down.  And while I was lying down, I started thinking about how some blocks are so much more enjoyable to put together than others (which has no correlation to the finished result just the stitching up part). I think I would rate the CS block as a 2 out of 10 for block making enjoyability rating.
This block on the other hand is what I started piecing once I'd done the lying down and pondering thing.  These are bear paw blocks and I'd give these a pleasing 12 out of 10 block making enjoyability rating.  Do not be fooled by all those half square triangles they come together ever so quick.  Like magic ta da quick.
I used lots of my Little Apples fabric line mixed in with some low volume fabrics from various lines of mine.
I've pieced these into a panel to cover a pillow.  And right after I have finished making that, I'll be making a bear paw picnic blanket then some bear paw placemats and once I get myself some Hello Petal, I'll be putting together a bear paw quilt.
And if you just so happen to be wanting to do a little bear paw ing yourselves, there will be a free PDF how to available right here on the blog in a few weeks time.  Plenty of time to work out what you want to make :)