I'm so happy to announce that I have a new fabric line in the works - Vignette.  This will be my first line with Cloud 9 fabrics which means that it will be printed on 100% GOTS certified organic fabric - I'm so happy about that!  The line includes 14 prints on quilting cotton and 4 of the prints will also be available on delicious double gauze - you can take a look at the full collection here.
Working with Cloud 9 has been a dream, I'm excited that the fabrics will be able to be used not only for quilts but be perfect for dresses, scarves and bags too.  I can't wait to see what you do with it!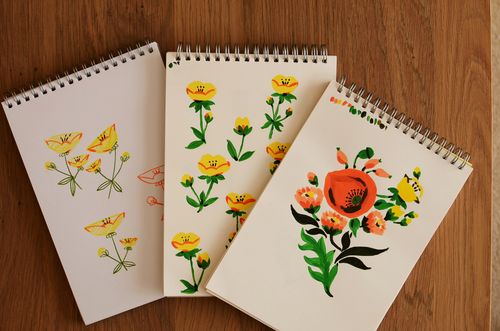 I thought it might be of interest to give you a little back story on the line.  It began around 2 years ago when I was in the mood for doing a little painting.  I was working on several sketchbooks at once - since I find it hard waiting for things to dry.  I wasn't really thinking about a fabric line, so the paintings evolved very naturally.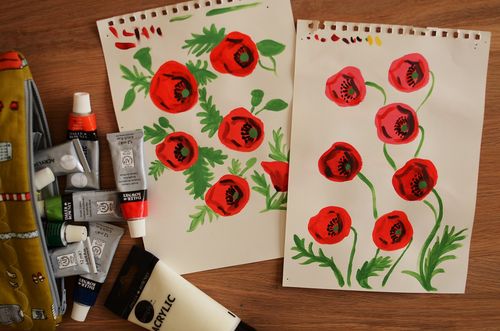 They are quite sketchy in nature, which is how I like to work when I working with acrylic.  Some are also done in pencil and the ones I'm showing here are those that relate most directly to the line.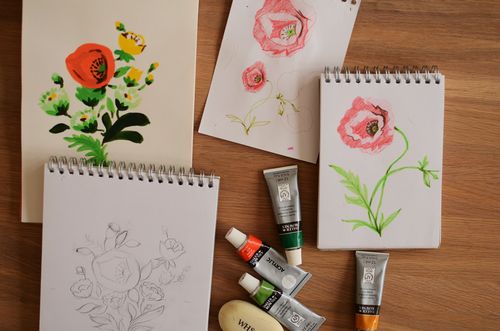 I hope to do another post soon about how I developed the drawings into idea's for a fabric line and how that process evolved over time.  In the meantime, here's a look at inspiration and fabric altogether.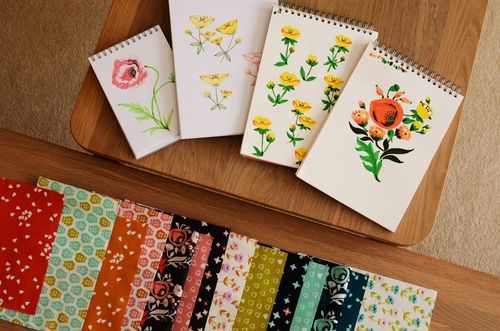 Vignette is selling to quilt shops now and will start arriving in stores this November.