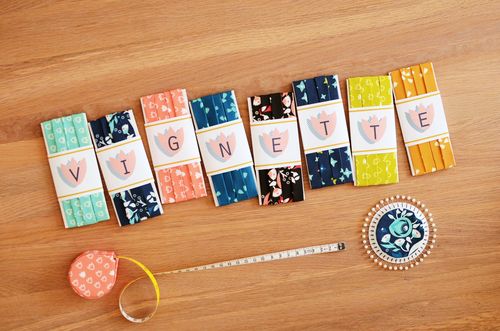 So here we go with a look through some of the projects that I've been busy putting together to showcase my Vignette fabric line.  
When I first started thinking about what I could sew with these prints I couldn't help but feel that a dressmaking or haberdashery theme would be a perfect starting point to spark off my ideas.  Even though all of the prints are new and original, they seem to have a kind of vintage feel somehow.  I wanted to echo this with an overall look to the projects that was somehow timeless.
To kick start my sewing, I thought it would be fun to make up a few sewing notions or haberdashery items out of the prints which I could use as a starting point for my display at quilt market.  I began with making some bindings wrapped around card and also covered up some buttons and a tape measure (I completely winged this) and decorated some pinwheels - all of these projects were so much fun to put together.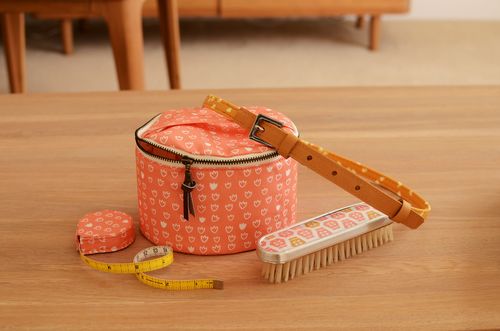 I continued to find creative end uses for the fabrics by making a fabric and leather belt - the buckle was re-purposed from an old belt of mine and I just used the old belt as a guide for how to put things together.  The clothes brush was again, re-purposed (I keep it mostly for de-threading my clothes after sewing).  
Of course it was also a no brainer to use up some of my own patterns to make items, like the hold it all pouch, above.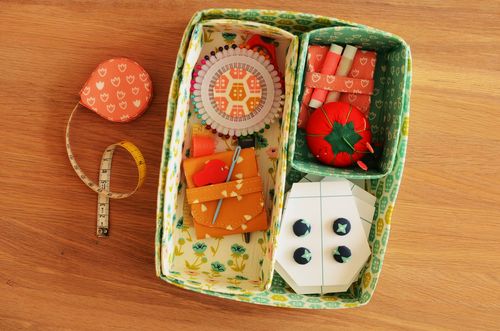 As well as nesting boxes and foldover mini pouches..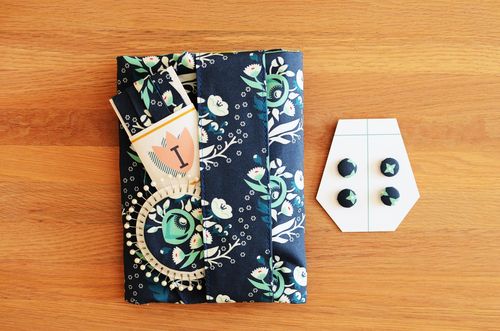 and a foldover sewing pouch.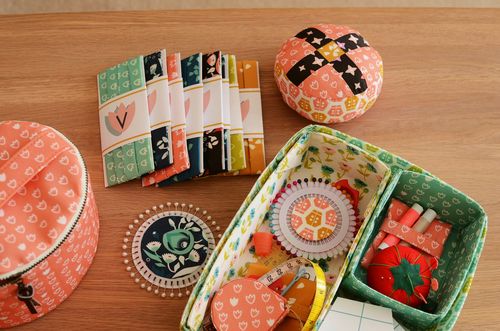 And of course somewhere to stick all those pins.
(wagon wheel pincushion tutorial)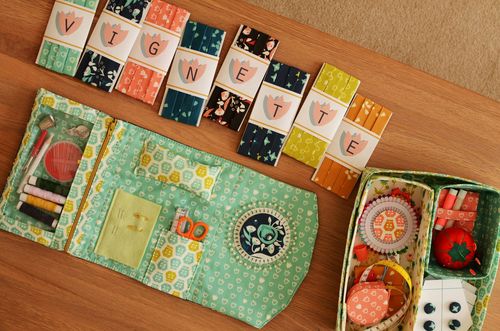 My main aim for these projects was to find slightly less usual ways of working with the fabric and finishing up a few quick makes at the same time.  I'm hoping to get my sewing teeth stuck into some quilts and dresses in a few weeks time.
Tomorrow I'll be sharing a few more projects I've made with you!