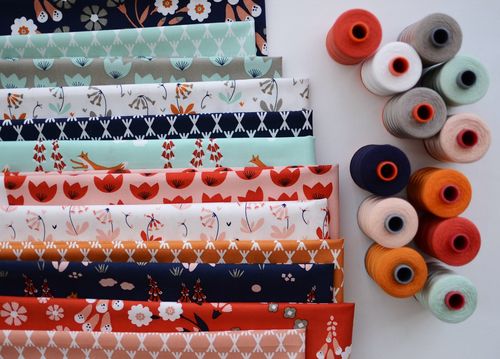 Any fabric loving girl will be able to tell you that threads are all important.  I whole-heartedly agree and I've long been of the persuasion that Aurifil threads are the best you can buy - the diamonds in the dust of the thread world.  These spools have earned that fangirl status from me for several reasons - they're made from high quality egyptian cotton, come in a super range of colours and in a variety of thread weights (more on this below).  They are also available in boxed sets of colours, perfect if you want a range of colours but can't decide exactly what you need.  I'm thrilled to be able to tell you that I was asked to put together a thread box recently to coordinate with my Foxglove fabric line.
Say hello to this delicious range of colours..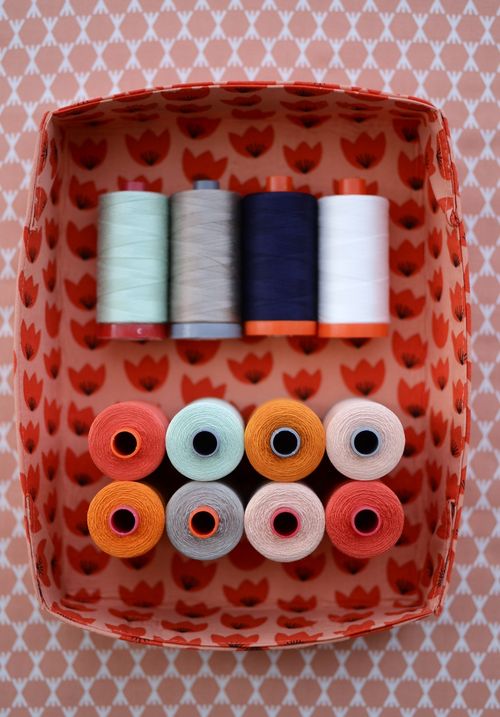 I took the opportunity very seriously indeed (as only a fabric and thread loving gal can).  I sat around for a few days with my aurifil thread cards, thread spools and the fabrics spread out all over the place and spent hour after hour draping threads over the fabrics to determine what would work in any given sewing situation.  I wanted the threads to match the colours certainly but I also wanted threads in there that could for example, be used for an all over quilting design, for hand quilting, bag making, topstitching and so on.
So my box contains a small selection of colours AND a variety of thread weights.  There are four spools each of the -
50 wt - Ideal for general sewing/piecing and machine quilting
28wt - Great for bag making and topstitching, this slightly thicker thread is also perfect if you want your quilting design to stand out more
12wt - Perfect for hand quilting, beautiful high sheen quality.  You will just want to hand quilt everything once you start! 
The range of colours are perfect to match with Foxglove but they are also very classic colours that will go with a much wider range of fabrics too.
And there we have it, thread talk over (for now).
My Foxglove thread set is currently being shown to distributors and shops.  If you are off to quilt market this week, please visit the Aurifil thread booth and ask to take a peek at one of the boxes.  I think these will start arriving in shops in a matter of weeks, I'll keep you posted on that.