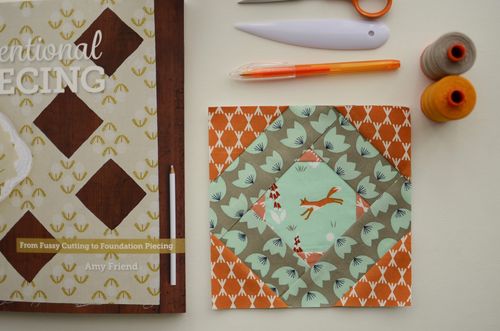 I've long been a fan of fussy cutting and intentional piecing.  Even before I designed my own fabric, I was always drawn towards the kinds of fabrics that lend themselves best to this type of sewing. These types of fabrics or 'conversationals' as they are known in the textile industry can be used in so many fun ways.  I'm so happy to see that at long last a book has been published covering this subject in some depth.  Intentional Piecing:From Fussy Cutting To Foundation Piecing by Amy Friend has finally arrived!  Published by Lucky Spool, this book looks more specifically at ways to make thoughtful fabric choices when sewing.  There is a focus on precise and mindful work to create more personal projects.
This is my first block for the Tell Me A Story Quilt from the book, Amy encourages us to pick the fabrics and sew each block one at a time.  Telling a story through fabric choices intentionally, it's a fun and creative way to work.  I paired up a little colour story using my Foxglove fabrics, I adore this gold and grey combination.  Since the little fox at the centre is running though the flowers, I pieced each of the grey floral strips away from the centre.  It plays on the kaleidoscopic setting of the block and looks like the flowers are parting out of the way as the fox runs through them.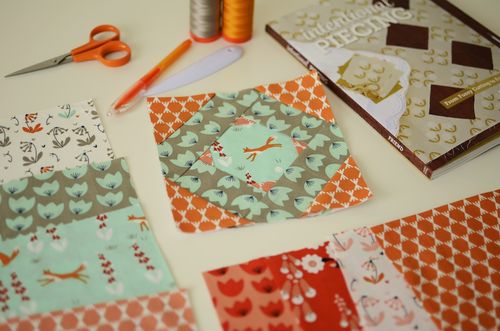 I'm whirring with idea's for what to piece for my next block.  In the meantime, you might like to know that there is a contest going on over on Instagram (with a fun fabric prize).  Just piece a Tell Me A Story block and post it on IG with a little explanation of the story going on in your fabric choices and use the hashtags #tellmeastoryquilt and #intentionalpiecingbook.  If you want to see more of Amy's work, she is @duringquiettime over there.
p.s. you might want to know that if you use the discount FRIEND30  you can get a 30% discount when purchasing the book from the Lucky Spool website.