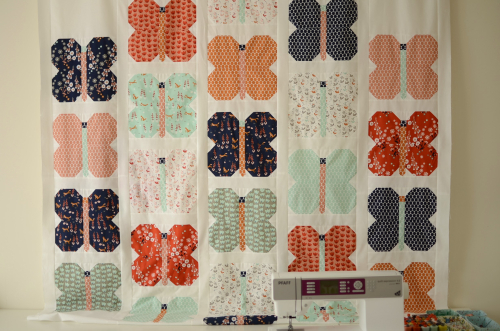 It's been a little while since I've sewed up a quilt top.  I did a little calculation and estimate that 'while' to be around 2 1/2 years!!  How did that happen.
Obviously since that calls for a photo or two (to celebrate if nothing else) it is raining outside, so indoor photos will have to do.  I want to get this baby basted asap.  Given how long it took to get back to sewing quilts I think that is sensible.  I'm thinking of hand quilting the entire thing (more on that below).
The Flutter pattern I wrote and used to make my quilt is now available as a free download from Cloud 9 fabrics.  You can find a direct link at the bottom of this post :)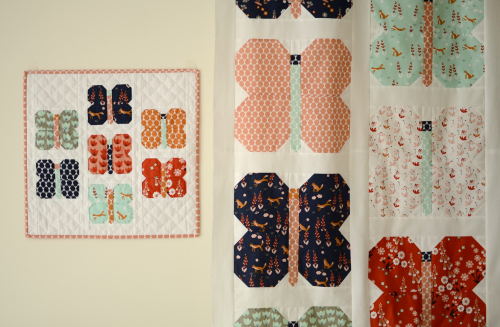 Whilst the top was up on the wall, I thought it would be good to get a size comparison shot with my mini version.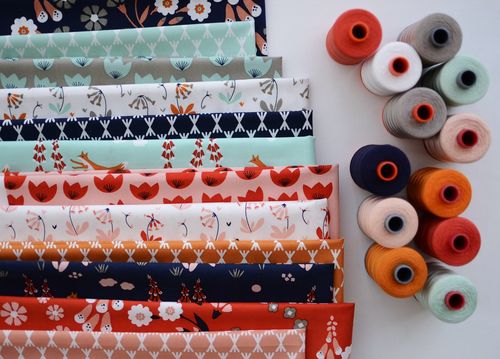 In other news my Aurifil box of co-ordinating threads has started to arrive in shops.  You can already find it here!  
The box is a mixture of the 50wt, 28wt, and 12wt threads, so there are lots of options for machine sewing, hand quilting, making bags and more.
I'll be using the 12wt threads to hand quilt my Flutter quilt, I'll keep you posted on how that goes.  
You can find the download for the Flutter pattern here
The download for the mini Flutter is here
Fabric stockists for Foxglove fabric can be found here.
Foxglove thread box available here.