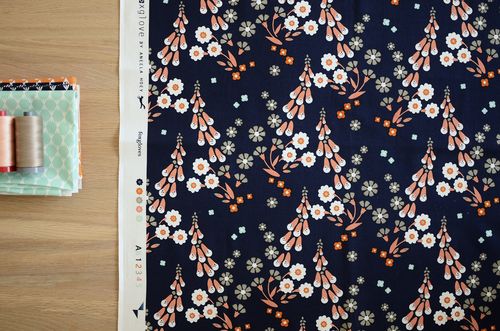 The two lead prints of the Foxglove line are unsurprisingly called Foxgloves and Fox In The Foxgloves.  It all started with the print above, I drew up a few of my favourite flowers in Illustrator and then set about laying them out in repeat.  I always work out my own repeats, its a fascinating extension of the basic print idea.  My only problem with working out the layout is that I want to play forever and don't know when to stop.  I still have countless variations of this design in differing repeats, all with a slightly different names such as 'half drop spray'.  It's all technical lingo so that I can remember what I was doing before the next layout idea distracted me.  Anyhow for my lead prints I've been working along the lines of a simple design that is more complex than it first appears.  This kind of repeat fascinates me because it works well as a design but it's not really that straight forward for someone to notice where the repeat starts and ends.  Take a look above and see how long it takes you to figure things out.  Clue, it looks like a half drop but isn't.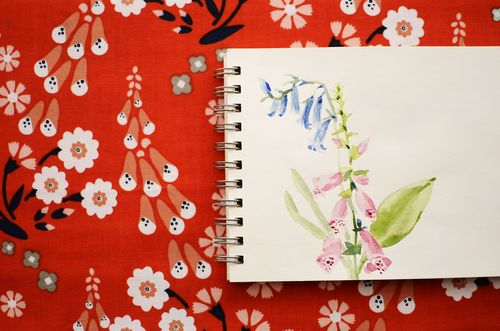 Like the cowslips I showed you the other day, foxgloves are another plant that I love to draw endlessly. I have grown it in my garden many times, mostly from seed and watched it self seed all over the place.  One thing I found fascinating several years ago was that it would even self seed and grow in small cracks in the paving.  Not only grow but flower too!  The above page from one of my sketchbooks is a watercolour done probably at least 15 years ago.  It was one of the points of reference I used when creating this print.
Once I had this print almost worked out, I reduced the size of the image in Illustrator and thought it would work well as a second print much smaller in scale.  At first I thought about mixing in some other flowers and then whilst doing the housework I had the idea of adding foxes.  Seriously, some of my best ideas come to me whilst washing the dishes..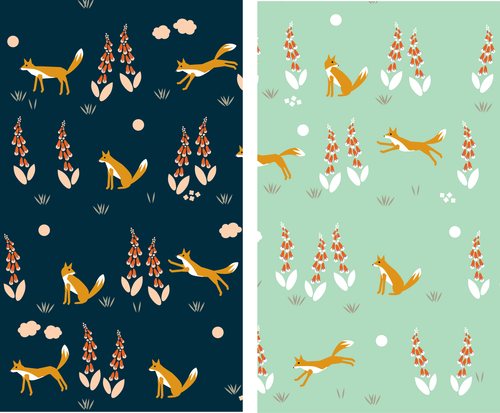 To add a little interest I started thinking of Fantastic Mr Fox and had my little fox acting all sly and up to things.  I drew up a few quick pencil sketches of him in different poses then drew them up in Illustrator.  And once I had these two prints done, I knew I had the basics of a new collection.  And there we have it.  If you look closely, it's just the same foxglove in the large scale print above with some leaves added.  The two colourways I submitted of the fox print (as above) also formed the basis of the colour selection for the entire group.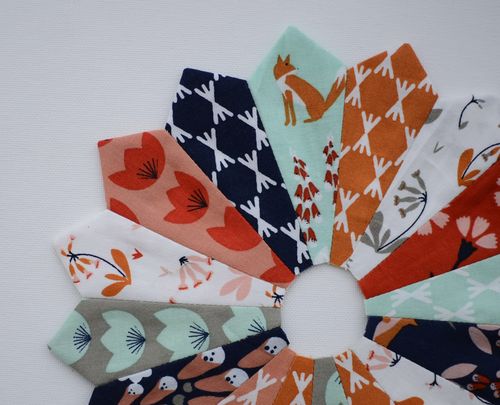 Our Foxglove Showcase maker today is Pennie of Tuppence Ha'penny Quilts.  Pennie has been a personal friend of mine for the past few years.  She is an amazing quilter and super fast with it and also just an all round nice person.  You really should go meet her and find out what she's been sewing up at lightening speed!