I have to confess, I'm not big on wearing shorts.  I only reach for them when the sun is shining at full throttle and I need an outfit with built in air conditioning.  I kept seeing photo's online of the City Gym shorts pattern but I was certain this style was not for me.  Then it got super hot and I decided to give them a go.  I'll admit I was completely wrong, the fit on these shorts is perfect.  They are super wearable.  
So good that I made them twice! (so far).
Both these fabrics are from my Vignette collection, the gold is quilting cotton (but has a lovely light hand, perfect for clothes making).  The navy is double gauze and in case you're wondering this substrate works perfectly for this pattern too.  I made the double gauze shorts exactly the same way, no modifications.  I just made sure to cut them right before sewing as this substrate doesn't like waiting around.  The navy pair were my daughter's idea, she said that the darker fabric would make them perfect for autumn/winter as you could wear them over tights. I tried this over the weekend and she was right. I love how she thinks ahead sartorially :)
Both pairs were edged with Robert Kaufman slub indigo chambray (I bought mine at the village haberdashery).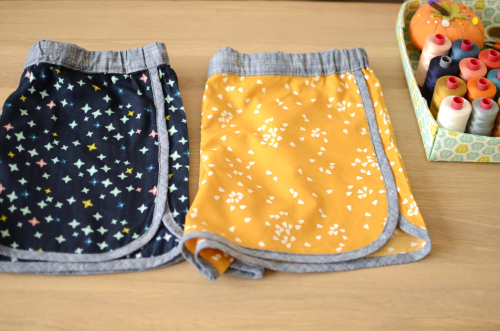 One small thing, my print outs of the pattern pieces kept printing with some of the cutting lines missing.  I tried the tips in the tutorial but couldn't get them to work.  In the end I just taped my print out on to my computer screen (with the pattern image on the screen at full size) and drew in the missing lines by hand.  It was easy to do and solved the problem for me.
You can find the pattern for the shorts here.