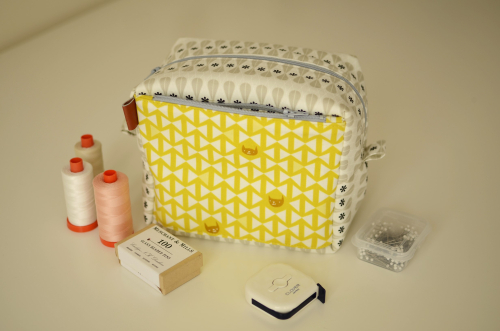 The good thing about writing patterns and books is that I no longer have to try and remember how I made a particular project if I want to remake it later.  Previously, I would scribble down notes and measurements in illegible writing on scraps of paper.  Which subsequently would make little sense to me a year or two down the line.  Now that I've published several PDF patterns, along with my book Stitched Sewing Organizers, I thankfully have a library of patterns, ready and waiting whenever I get that elusive 'sewing time' opportunity.
My most recent make was a new version of the Boxy Pocket Pouch project from my book.  It was so good not to be working from scratch for once and having all the instructions, pictures and templates together in one place.  I picked some long hoarded favourites from my stash and it's so good to see these pretty fabrics made up into something I can see and use everyday.  I'm planning several more projects already :)
Fabrics used are from Catnap by Lizzy House for Andover fabrics and Black & White by Melody Miller for Cotton & Steel fabrics.