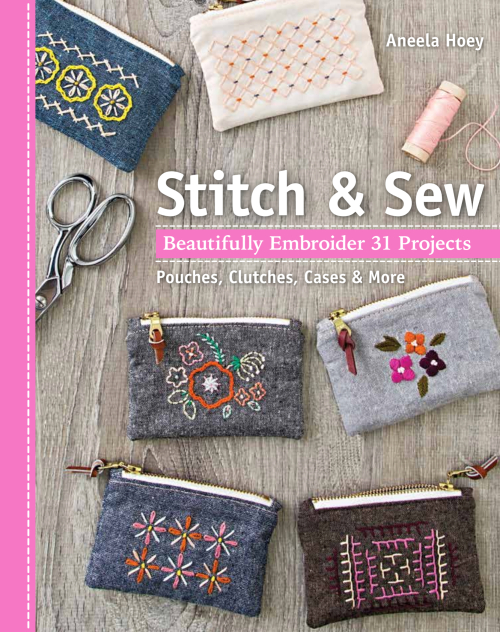 I have something new to show you today.  For the past couple of years, I've been busy working on my third book and I'm exciting to share the details with you.
This book combines my love of both sewing pouches and embroidery.  I wanted to create fresh modern embroidery designs that would be fun to stitch up and also provide the instructions to sew up your stitched pieces into something both beautiful and practical that could be used everyday.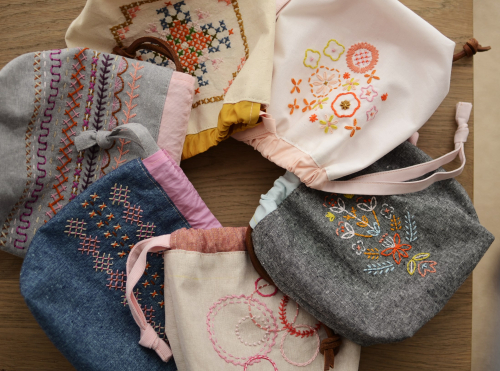 There are five sewing projects in the book - the photo above shows the drawstring pouch.  Each project is showcased in six different embroidery/fabric variations.  I wanted to emphasize how it is possible to personalize a sewing project in a multitude of different ways - there are simple repetitive patterns, fun sampler designs and pretty floral motifs to choose from.  Instructions are included for all embroidery designs and the sewing project.
The five sewing projects are all great basics - I wanted the sewing element to remain quick and simple to stitch up after your embroidery has been completed.  
There is also a comprehensive embroidery section - covering both basic and advanced stitches and techniques.  As well as a sampler project which will help develop your skills whether you are new to embroidery or have been stitching for many years.
If you're ready to get stitching and sewing, the book has just started arriving in stores.  You can pick up a copy at
as well as many other online retailers, quilt shops or book shops.